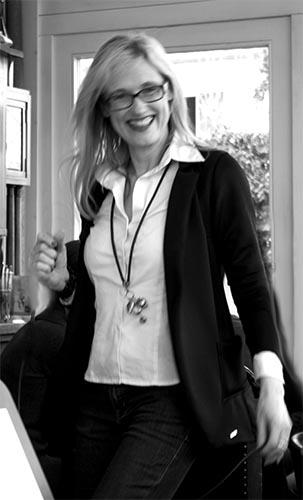 CLAUDIA SALVEÉ
Geboren 1963 in Bad Oldesloe bei Hamburg
Lehre und Meisterprüfung im Kürschnerhandwerk
Graphik Design-Studium in Hamburg
Konzeptionistin und Artdirektorin bei Grüne Erde OÖ
Persönlichkeitsentwicklung und Sinnfragen u.a. durch Yoga-Workshops in der Schweiz, tibetischer Buddhismus und Weltreisen (USA, Kanada, Indien, Nepal, Neuseeland, Europa)
Sängerin von Jazz bis Rock
Lebt und arbeitet seit 1996 im Gmunden/Salzkammergut, Linz und Gurten bei Ried im Innkreis
ART:
Seit 1987 aktive Auseinandersetzung mit Malerei – Akt – Aquarell in Hamburg und München
1987-88 Aquarell und Radierungen bei Konrad Hetz in München
1993-96 Malen und Zeichnen bei Marianne Timmander Korth in Hamburg
1993-96 Aktzeichnen bei Heike Petersen in Hamburg
Bevorzugte Maltechniken: Öl, Acryl, Metallfolie auf Leinwand & Papier, Fotografie und Fotoübermalungen

AUSSTELLUNGEN:
2009   "Atelier Molda" in Unterach am Attersee
2010   "Hengl-Haus" in Stadt Haag OÖ
2010   "Mobile Galerie" in Schwanenstadt
2011   "Atrium" in Linz
2011 - 2013  "Atelier Molda" in Linz
2013 - 2016  Eigene "Galerie Molda-Salveé" in Linz
2014   "Galerie der Provinz" in Gmunden
2015   "Atelier Molda" in Linz
2016   Ausstellung "AKT & ASCHE" "Galerie Käthe Zwach" in Schörfling am Attersee
2017   Kulturverein "Medio2" in Kronstorf
2017   Atelier Molda-Salveé in Gurten bei Ried im Innkreis OÖ
2018   Ausstellung "ABSTR(AKT)" "Galerie Käthe Zwach" in Schörfling am Attersee

VOCAL:
Gesangsworkshops und Stimmtrainings in Hamburg und OÖ u.a. bei Catarina Lybeck, Kyung-Hye Choi, Ted Pawloff & Helena Ender, Miriam Fuchsberger
Bands und Formationen:
• "Take Five" Rock-Blues-Latin in Oberösterreich
• "First Avenue" Jazz-Pop-Soul in Linz - www.First-Avenue.at
Die Kunst von Claudia Salveé  vereint vielseitigste Facetten. Ihre Arbeiten umfassen verschiedene Stilrichtungen und Medien - von abstraktem Ausdruck über Frauenbildnisse bis zu Fotokunst, Fotoübermalungen. Seit 1987 setzt sie sich aktiv mit  Zeichnungen-Aquarell-Akt auseinander, 2006 wendet sie sich einer gestischen Fingermalerei zu.
Das Thema Frausein mit all ihren Licht- und Schattenanteilen begleitet sie seit Jahren.
Es sind diese vielschichtigen Aspekte der Weiblichkeit, die sie in ihren Akten und Frauenbildnissen ergründet und zum Ausdruck bringt. Ob kühle Zurückhaltung oder hingebungsvolle Sinnlichkeit –  es ist das Spiel aus Nähe und Distanz, das den ausdrucksstarken Bildern eine Ausstrahlung von Eigenheit, Intensität und innerer Kraft verleiht.

In ihren Seelenlandschaften trägt Claudia Salveé die Farben flächig-dichter auf, kräftig und lebendig schattiert. Sie lässt sie in Flüssen, Strömen und Rinnsalen ineinander fließen, so wie in unserem Innern auch die verschiedensten Gefühle ineinanderfließen, sich durchmischen oder sich überlagern und selten in eine Ruhe oder lichte Klarheit kommen. Diese dynamische Momentaufnahme wird in manchen Bildern gesteigert durch eingearbeitete Schriftzüge. So sind diese Bilder getragen von einer unentwegten Suche nach Licht, dem stimmigen Text des Lebens und der Zentrierung der Seelenkräfte.

Eine beeindruckende Fusion aus realistisch inspirierter Atmosphäre und künstlerischem Vokabular gelingt Claudia Salveé in ihren Fotoübermalungen. Dabei geht es ihr nicht nur um die äußere Erscheinung, sondern immer auch um eine Selbst-Offenbarung. Wir können uns nicht unverhüllt zeigen ohne das Gefühl, nicht nur unser Äußeres zu präsentieren, sondern gleichzeitig unser Inneres, vielleicht sogar unser Innerstes. Claudia Salveé spielt in ihrer Akt-Kunst mit den Facetten ihres Lebens, dem Sich-Zeigen und dem Sich-Verstecken. Auf diese Weise erspielt sie sich die Freiheit, die das zentrale Motiv ihres Schaffens ist. So bringt sie dem Betrachter in Erinnerung, dass auch in ihm diese Freiheit lebt.
Die Arbeiten zeigen teils kräftige, teils fein nuancierte Farbtöne verbunden mit klar akzentuierten fotografischen Elementen. In ihrer aktuellen Serie übermalt sie Aktfotos und Körperbilder in Bewegung. (Die Aufnahmen stammen von Martin Molda und von Ihr selbst.) Besonders in der Serie "Verkörperungen" und "Roter Tanz" gelingt ihr ein eigenständiges Werk.
---
CLAUDIA SALVEÉ

Born 1963 in Bad Oldesloe near Hamburg
Apprenticeship and master craftsman examination for furriers
Studied graphic design in Hamburg
Conceptionist  and Art Director at Grüne Erde Upper Austria
Personality development and questions of meaning through yoga workshops in Switzerland, Tibetan Buddhism and world tours (USA, Canada, India, Nepal, New Zealand, Europe)
Singer from jazz to rock
Lives and works since 1996 in Gmunden/Salzkammergut, Linz and Gurten near Ried im Innkreis

ART:
Since 1987 active engagement with painting - nude - watercolour in Hamburg and Munich
1987-88 watercolour and etchings by Konrad Hetz in Munich
1993-96 painting and drawing by Marianne Timmander Korth in Hamburg
1993-96 nude drawing by Heike Petersen in Hamburg
Preferred painting techniques: oil, acrylic, metal foil on canvas & paper, photography and photo overpaintings

EXEBITIONS:
2009 "Art Fair" in Gmunden
2009 "Atelier Molda" in Unterach on Lake Attersee
2010 "Hengl-House" in the city of Haag Upper Austria
2010 "Mobile Gallery" in Schwanenstadt
2011 "Atrium" in Linz
2011 - 2013 "Atelier Molda" in Linz
2013 - 2016 Own "Galerie Molda-Salveé" in Linz
2014 "Gallery of the Province" in Gmunden
2015 "Atelier Molda" in Linz
2016 Exhibition "AKT & ASCHE" "Gallery Käthe Zwach" in Schörfling am Attersee
2017 "Medio2" Cultural Association in Kronstorf
2017 Atelier Molda-Salveé in Gurten near Ried in the Innkreis Upper Austria
2018 Exhibition ABSTR(AKT) "Gallery Käthe Zwach" in Schörfling am Attersee

VOCAL:
Vocal workshops and voice training in Hamburg and Upper Austria with
Catarina Lybeck, Kyung-Hye Choi, Ted Pawloff & Helena Ender, Miriam Fuchsberger, Bands and Formations:
• Take Five" Rock-Blues-Latin in Upper Austria
• "First Avenue" Jazz-Pop-Soul in Linz - www.First-Avenue.at

The art of Claudia Salveé combines the most diverse facets. Her works cover various styles and media - from abstract expression to portraits of women to photographic art and photo overpaintings. Since 1987 she has been actively engaged in nude drawings and watercolours, in 2006 she turns to gestural finger painting.

The theme of being a woman with all its light and shadow components has accompanied her for years. It is these complex aspects of femininity that she explores and expresses in her nudes and portraits of women. Whether cool restraint or devoted sensuality - it is the play of closeness and distance that gives the expressive images an aura of individuality, intensity and inner strength.

In her soul landscapes Claudia Salveé applies the colours more densely, strongly and vividly shaded. It lets them flow into each other in rivers, streams and rivulets, just as the most diverse feelings flow into each other in our inner being, intermingle or overlap and rarely come into a calm or light clarity. This dynamic snapshot is enhanced in some images by integrated lettering. Thus these pictures are carried by a constant search for light, the coherent text of life and the centering of the soul forces.

Claudia Salveé manages an impressive fusion of realistically inspired atmosphere and artistic vocabulary in her photo overpaintings. She is not only concerned with her external appearance, but always also with a self-revelation. We cannot show ourselves undisguised without the feeling of presenting not only our appearance, but also our inner being, perhaps even our innermost being. Claudia Salveé plays in her nude art with the facets of her life, showing herself and hiding herself. In this way, she acquires the freedom that is the central motive of her work. Thus she reminds the viewer that this freedom also lives in him.
The works show partly strong, partly finely nuanced colours combined with clearly accentuated photographic elements. In her current series she paints over nudes and body images in motion. (The recordings were made by Martin Molda and herself.) Especially in the series "Body Images" and "Red "Dance she succeeds in creating an independent work.